Easy Pricing:
Using our Price Calculator, you'll get a quick price in seconds. Then you can add as many options as you'd like, and you're price updates automatically, so you'll know just what you're paying.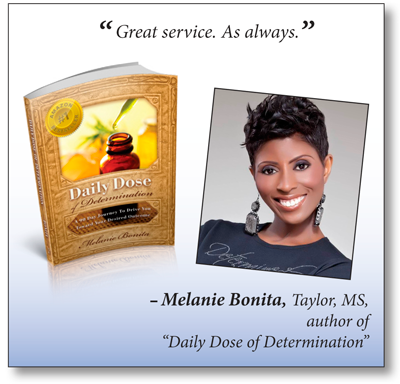 Easy Ordering:
It's easy to go straight from our Price Calculator right into placing an order. If you have questions about any of our options, give us a call, and we'll be happy to help you through it. Or if you'd prefer, we can even place the order for you.
Book Store Quality:
From paper to print to binding to final trim, our books are as good as, or better than, books you'll see at your local bookstore.
PUR Adhesive:
Most book binders use EVA glue, because it's easy. But with EVA glue, your binding may get brittle and crack in extreme cold temperatures, or it may melt in extreme heat. Either way, the pages will start falling out. We use PUR glue, which is significantly stronger than EVA. It lasts longer, looks better, and can withstand extreme heat and cold.
25 Free Books:
Simply order 100 or more books, and we'll give you an extra 25 books, free!
Foil Stamping and Embossing:
We can foil stamp your covers to help your book really stand out from the crowd. Embossing is available, too.
Hardcover Books and Dust Jackets:
Offer your readers a premium version of your book, suitable for display as a 'coffee table' book. We can print your full order as hardcover books, or do some perfect bound and some hard cover ... it's up to you.
Cloth and Leather Covers:
Another premium selection that can give your books a rich, elegant look.
Reformatting Like the Best Sellers:
Choose from a variety of best-sellers, and we'll format your book to match their formatting. Why re-invent the wheel? If it worked for these best-selling authors, it can work for you, too.
Create-a-Cover:
A simple way to get a great looking, high-quality cover at a fraction of the cost of a custom cover designer.
Custom Webpage to help promote your book:
We'll help you tell the world about your new book! We create a webpage that contains your book profile, including a 3D thumbnail picture of your book. You can enter whatever information you'd like: a short description, author bio, contact information. Then, we make it easy for you to share it on Facebook, LinkedIn, and several other social media sites, all with just a click of a button. And it's all free.
We've added reviews that have been gathered by eKomi, the Feedback Company. eKomi is an independent, 3rd party review company, so we don't control the reviews. We encourage you to read some of these reviews. Simply hover your mouse over the rating box on the left to see one customer review or, better yet, click on the rating box to see as many reviews as you'd like.
They're proof that we really are completely different from any other business today. We put customer service (and your satisfaction) first!
For us, reading these reviews NEVER gets old (although we have to be careful not to let it go to our heads!) They show just how much our authors love us, and you'll love us, too, because we really are different!
We also receive an excellent rating from the
Better Business Bureau
, and we have for years. So don't just take our word for it. We really do deliver as promised. You can count on it! Call us today ... 800-231-0521.
And, of course, over 12,000 "likes" on Facebook isn't too shabby, either!
---
Self Publishing Book Printers Special:
Get 25 FREE books when you order 100 or more!
Sure, you can order as few as 10 books through 48HrBooks, but if you order 100 or more, we'll send you 25 more books FREE. There's nothing special you have to do... we'll take care of everything automatically. We'll even list the 25 free on your order form so you don't forget. For example: simply order 100 books and you'll get 125; order 500 books and you'll get 525. That's a great deal, and it means that when you sell those 25 free books, it's all profit! Just one more way that your friends at 48HrBooks are here to help.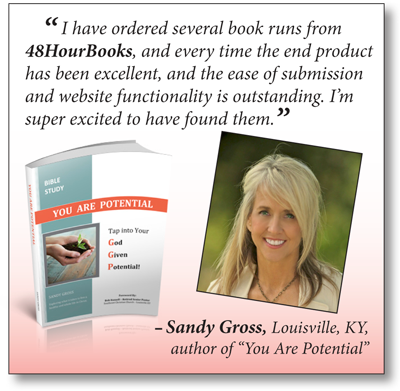 How to Publish a Book ...
Self Publishing help from 48HrBooks
We're FAST! 2 Days is our NORMAL turn-around time for perfect bound books (Hard cover and Coil bound books take 5 days). But if 2-days isn't quite fast enough for you, we also offer Rush (1-day) and SuperRush (same day) service.
We Make it SO Easy... We Even Answer Our Phones! Not only do we have lots of helpful information (and videos) on our website, but we've also got qualified people to answer all your questions via phone, email or on-line chat. We can explain every step. We take what can seem like a very scary process, and make it easy-to-understand. During regular business hours, we always answer our phones. We also offer Online Chat (see above), and we reply quickly to email questions. We're very flexible -- we don't have rigid file requirements. No elaborate contracts to sign, either, so you keep all rights to your book. And if you're selling your books, your profit margin on each sale will be much higher than the "royalties" that others promise you.
We Produce High-Quality Books! Our print quality is excellent. Our perfect bound books are stronger than most books you'll see at your local bookstore. Our case bound books are built to last, and now feature a new, more flexible binding that allows them to open flatter than before.
Yes, we're the fastest book printers around, but please...
remember to add SHIPPING TIME to your book printing order.
Got a critical "need by" date? Do yourself a BIG favor and add an extra day to your lead time.
We think UPS is the best and most reliable in the shipping business, and their "on-time delivery" rate is exceptional, but they sometimes miss their deadlines, and their guarantee only covers the SHIPPING COST. So if you order $1,000 worth of books, with a shipping cost of $50, and UPS is late, they'll only re-imburse the SHIPPING COST of $50. Therefore, if at all possible, please give yourself an extra day or two cushion so you won't be disappointed.
Remember: Your Expected Delivery = Production Time + Shipping Time. 2 days is our PRODUCTION TIME. You'll need to add SHIPPING TIME to that. So whether you're a self publishing author or a small publisher, you'll get your books printed and delivered ON TIME! For example, if you OK your books on Monday, we'll ship your books on Wednesday. If you're in Chicago or New York, you'll receive them Friday. If you're a book publisher in Florida, you'll receive them Monday. If you're a self publishing author on the west coast, you'll receive them Tuesday. See the map below for your shipping time. Expedited shipping (Next Day Air, 2nd Day Air) is also available.
Map of SHIPPING TIME for UPS Ground service: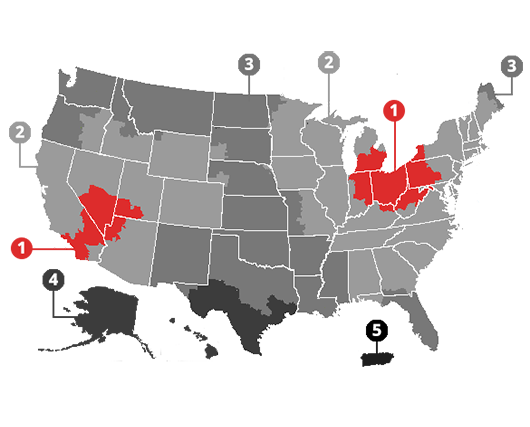 The "2 DAY" clock starts ticking when you APPROVE YOUR ARTWORK and we have received payment in full. We count regular business days (no weekends, no holidays), and each day's cut-off is 5:00 pm EST. Any approvals after 5:00 pm EST will be counted as the following day.
Example: If you OK your proof Monday at 4:45 pm EST, your books will ship Wednesday. But if you wait 20 minutes longer and don't OK your proof until 5:05 pm EST on Monday, the approval will be counted as Tuesday, so your books won't ship until Thursday.
Perfect Bound books production schedule:
Proof OK'ed before
cut-off on...
Standard (cut-off is 5pm EST),
Books Ship...
Rush (cut-off is 3pm EST),
Books Ship...
SuperRush (cut-off is noon EST),
Books Ship...
Monday
Wednesday
Tuesday
Monday *
Tuesday
Thursday
Wednesday
Tuesday *
Wednesday
Friday
Thursday
Wednesday *
Thursday
Monday
Friday
Thursday *
Friday
Tuesday
Monday
Friday *
Saturday, Sunday
Wednesday
Tuesday
Monday *
* = Please CALL US for SuperRush. They are only available on a limited basis, and artwork must be OK'ed by noon EST.
Hard cover and Coil Binding take a little longer. They have a 5-day PRODUCTION TIME. And you'll still need to add SHIPPING TIME to that. For example, if you OK your hard cover or coil bound books on Monday, we'll ship your books on the following Monday. See the map below for your shipping time. Expedited shipping (Next Day Air, 2nd Day Air) is also available.
Hard cover and Coil Bound books production schedule:
Proof OK'ed before
cut-off on...
Standard (cut-off is 5pm EST),
Books Ship...
Rush (cut-off is 3pm EST),
Books Ship...
SuperRush (cut-off is noon EST),
Books Ship...
Monday
Monday
Friday
Thursday
Tuesday
Tuesday
Monday
Friday
Wednesday
Wednesday
Tuesday
Monday
Thursday
Thursday
Wednesday
Tuesday
Friday
Friday
Thursday
Wednesday
Saturday, Sunday
Monday
Friday
Thursday
Self Publishing Help...
If you are looking for videos that show you "How to Self Publish", we've got them. From initial file formatting and cover design to proofreading your self published book, you'll find videos that help you self publish right here on our homepage, and on our "How-To Videos" page. Check back often, because we're adding more helpful videos all the time.
We are FAST Book Printers...
An author simply places an order and uploads her files. We'll send her a PDF Proof. After her approval, we're off to the races. Her books are shipped within 2 business days of her approval.
By taking control of her own creative process, and becoming, in essence, her own book publisher, we help her achieve her dream of seeing her words, and her name, in print!
48HrBooks -- Book Binding Styles
This 1 minute video shows our three most-common binding styles: (1) Hard cover books (2) Spiral Coil bound books and (3) Perfect bound books.
Any Extra Charges?
Speeding up Production or Shipping or both:
Remember: Your Expected Delivery = Production Time + Shipping Time.
Our standard PRODUCTION time is 2 business days after artwork approval for Perfect Bound books and 5 business days after artwork approval for Coil Bound or Hard Cover books. Shipping times vary depending on where the books are being shipped. You can speed up PRODUCTION by selecting Rush or Super Rush when you place your order. You can also speed up SHIPPING by selecting a faster shipping method when you place your order. You'll be given several shipping options, with times and costs listed.
Create-a-Cover Layout ($100):
If you have a cover file already, there's no extra charge. But if you don't have a cover designed yet, use our Create-A-Cover feature. It's a real steal at $100. Simply choose from our collection of cover designs, then pick a color combination and texture. Send us the wording you want, and any photos or artwork, and we'll put it together according to your instructions. Then we'll send you a PDF Proof to approve before we print your order.
Self publishing? You'll want an ISBN & barcode ($125) or just a barcode ($20, generated from your existing ISBN):
Your book doesn't have to have an ISBN & barcode, but if you're planning on selling it through major bookstores or online bookstores, you'll need them. At 48 Hour Books, we bundle the ISBN with a barcode to save you money. Just download our ISBN Application Form (USA), fill it out, and email it back to us. (This is only for the United States and its territories. Canadian customers should get their ISBN through CollectionsCanada). A single ISBN & barcode is $125, a block of 10 ISBNs & barcodes is $450 ($45 each), a block of 100 ISBNs & barcodes is $2,000 ($20 each), and a block of 1,000 ISBNs & barcodes is $4,000 (just $4 each).
Be sure to order your ISBN before we set up your cover artwork, and don't approve your cover artwork if your barcode isn't on it. The ISBN process only takes a couple of hours, so in most cases it shouldn't effect your deadline. But if it does, we can always print your books without a barcode, and print barcode stickers that you can put on the books after you get your ISBN.
Please Note: All purchases of ISBNs are FINAL. Once an ISBN has been purchased, it cannot be returned. There are no refunds available for ISBNs. If you already have an accurate barcode, send it along and there's no charge.
Printed Proof ($40):
We will send you a FREE PDF PROOF to look at and approve. If you would also like a PRINTED PROOF, just check the "Printed Proof" option when placing your order. This isn't just a bunch of loose sheets and a cover. It's an actual finished book, printed and bound exactly like your full order will be, and sent to you by Priority Mail. By seeing a printed proof, you can make sure it's exactly what you want before giving us your OK. Printed Proofs are $40, but the benefit of seeing an actual book before we print your whole order can be well worth it. Just think of it as "insurance."
Re-formatting your files ($75 minimum):
Suppose your files are set up for 8.5 x 11, but you want your book to be a different size and have no idea how to re-format it. We can help! Of course, we have instructions to help you do it yourself and save that $75, but if you're new to book publishing and you'd rather just let us do it for you, simply send us your Word document, and we'll be happy to reformat it for you. We cannot reformat PDF files, so be sure to send Word documents if you need us to reformat them.
Converting files to PDF ($50):
You can convert your files to PDF for free by following these simple instructions or, if you're a new self publisher and don't want to mess with it, just send us your Word files and we'll convert them for you for $50.
Are you running a Mac? PDF conversion is built right into your system. Simply hit 'File > Print', then from the Print dialogue box, at the bottom left, click on 'PDF' and select 'Save as PDF...'
Are you running Windows? It's gotten so easy to create your own PDF files for free. Today, most word processing programs like Microsoft Word can save PDF files directly. After you've made any final corrections, save your file one last time as a Word document. Then, with it still open, click File > Save As … and change the file type to PDF. You may want to change the name slightly. We suggest adding "48Hr" in front. The PDF file will end with ".pdf". This is the file that you want to send to us. Be sure to look it over carefully before sending it. If there are mistakes in this PDF file, they'll show up in all of your books.
Are you using an old version of Microsoft Word that does NOT allow you to create PDFs? Download a FREE converter called doPDF. Simply click here to download doPDF and select 'RUN' when prompted. This installs a virtual printer named 'doPDF' on your computer. You'll be able to use it not only for your self published books, but for just about any file that you want to convert to a PDF. To create a PDF file, simply open your file, select 'File > Print...' and choose 'doPDF' as your printer. The first time you use doPDF, hit the 'Preferences' button and change 'Graphic Resolution' to 600 dpi (near the bottom right of the window.) Hit 'OK' and your Preferences are all set. Hit 'Print', make sure 'Embed fonts' is turned ON, and it will create a PDF. Be sure to check your PDF file CAREFULLY before sending it to us for printing. Any errors in your PDF will show up in all of your books.
Sending us revised files ($50):
Please proofread your files carefully before submitting them. We do a lot of work on your files before sending you the PDF proof or the printed proof. If you need to submit new files, we'll need to start over from scratch, so there is a $50 charge to cover the work we've already done on your original files.
Cancelled orders ($100 + any other options chosen):
As soon as you place your order, it's put into our production schedule. We put a lot of work into your files and reserve press time for printing your book. If you cancel your order, we'll be happy to return any deposits or credit card authorizations, minus $100 plus the cost of any other options chosen that we have already performed.
Landscape format - binding on the short edge
For Perfect Bound or Coil Bound books, 9" wide or less … add $25 setup.
More than 9" wide... add $25 setup PLUS $1 per book.
For Hard Cover books, 9" wide or less … add $50 setup.
More than 9" wide... add $50 setup PLUS $2 per book.
We'll put in the additional cost after we receive the order, and we'll let you know what the new total is.
Our "Comments" section - a 'catch-all' for any special items:
Occasionally, an author may want one-sided printing, die-cut tabs, printing on the inside cover, or various other special requests. Just list this in the "Comments" section on our order form. Of course, if you're wondering how this will affect your price, you can call or email us first. We'd be happy to give you the pricing.
If your book is an odd size, choose the next larger size, and indicate the actual finished size in the "Comments" section when you order.
E-Mail us: info@48HrBooks.com or call us at 1-800-231-0521
48HrBooks... Instant gratification for authors and self publishers.