Book Printing: The Easy Way
We are book printers, not publishers, so we don't require you to sign a contract. You keep all the rights to your book, and you should make a lot more profit from every sale you make.
We Are FAST!
After you place your order with us, strap yourself in ... because we do fast book publishing ... very fast!
Place your order in the morning, and you'll usually have a PDF proof by that afternoon.
Everybody gets a PDF proof. If you also asked for a PRINTED PROOF, we send it after you sign off on your PDF proof.
Sign off by 5pm EST and your books will ship in 2 business days (5 days for hard cover or coil bound).
---
---
HELP ALONG THE WAY
You can upload your files directly through our website as soon as you have placed your order. Then watch your email for messages from us. If we have questions about your fast book publishing order or your files, we'll send you an email. Otherwise, we'll email you a link to your PDF Proof. Download it, read through it, make sure it's EXACTLY what you want. If it's not, let us know what needs to be corrected. We'll help you determine what's the best way to make those corrections for easy self-publishing.
Typically, if you sent us a PDF file, you'll want to make the corrections yourself, create a new PDF and send it to us. If you sent us a Word document, we'll make the corrections on our version of the file. Either way, we'll go back and forth with you until you're happy with the PDF proof.
Money Saving Tip for Book Printing
Money-Saving Tip: Our standard prices are based on you sending us trouble-free PDF files. Your goal should be to send us files that are PERFECT right from the start. Every time corrections have to be made to your proof, you'll incur extra charges for computer time. (Of course, if they are mistakes that WE made, we'll fix those for free.)
---
WORLD'S FASTEST BOOK PRINTERS
Once you're happy with your PDF Proof, sign off on your fast book publishing order, and the deadline clock starts ticking:
If your books are PERFECT BOUND (a paperback book), we'll ship them in 2 business days.
If your books are COIL BOUND or HARD COVER, we'll ship them in 5 business days.
(Of course, if you ordered Rush or SuperRush service, we'll go even faster.)
---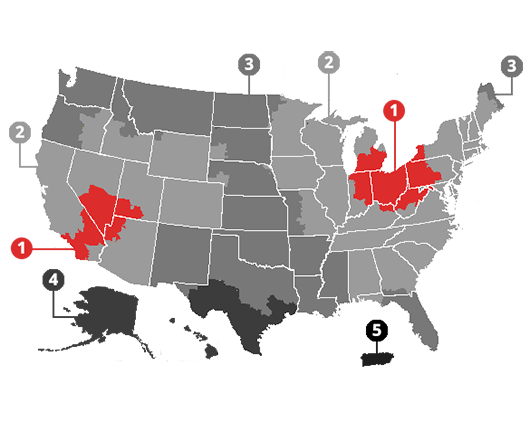 FLEXIBLE SHIPPING TIMES
Check out the UPS shipping map below to see how long UPS Ground will take to get to you. If you need your books faster than that, you may want to select Next Day Air, 2nd Day Air, or 3 Day Select.
But again, it's usually less expensive to upgrade the PRODUCTION time (Rush or SuperRush) than to upgrade the SHIPPING. We can help make sure that your books get delivered on time. Just give us a call, but be sure to do it BEFORE you give final approval of your artwork.
---
I've Seen Enough, Print My Books!
Our way is one of the easiest ways to publish a book. Once you're ready to place your order, simply click the big red "PRINT MY BOOK" button. Then fill out a simple form that tells us about you, your book, and your shipping and payment information. After the fast book publishing order is placed, you'll click the "Add Files" button to upload your files directly to us.
If, after placing your order, you realize there is a mistake and you need to make a change to the order, DO NOT place a revised order. We can make any changes you need on our end. Simply call (800-231-0521) or email (info@48HrBooks.com) us, or use our Online Chat and tell us what you need to change. Once you approve your artwork, however, your order is locked. We won't be able to make any changes at all.