---
Hot Off The Presses
Here are just a few of the many books that we've printed over the last few hours, days, and weeks!


---
Great Customer Service
For us, reading the reviews NEVER gets old.
They show just how much our authors love us, and you'll love us, too, because we really are different!
We've added reviews that have been gathered by eKomi, the Feedback Company. eKomi is an independent, 3rd party review company, so we don't control the reviews. We encourage you to read some of these reviews. Simply hover your mouse over the rating box to the right to see one customer review or, better yet, click on the rating box to see as many reviews as you'd like. They're proof that we really are completely different from any other business today. We put customer service (and your satisfaction) first!
We also receive an excellent rating from the Better Business Bureau, and we have for years. So don't just take our word for it. We really do deliver as promised. You can count on it!
And, of course, over 12,000 "likes" on Facebook isn't too shabby, either!
---
---
Days to Shipment Arrival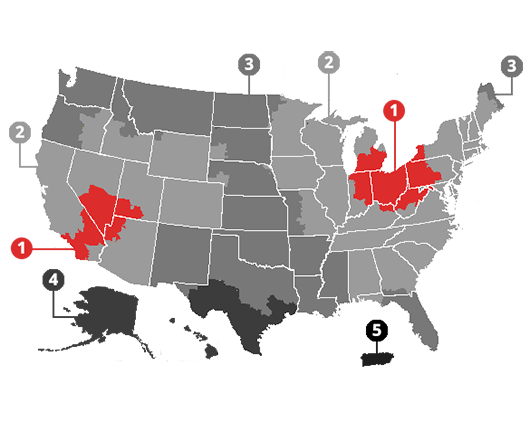 Shipping Times
Map for UPS Ground Service:
The "2 DAY" clock starts ticking when you APPROVE YOUR ARTWORK and we have received payment in full. We count regular business days (no weekends, no holidays), and each day's cut-off is 5:00 pm EST. Any approvals after 5:00 pm EST will be counted as the following day.
Example: If you OK your proof Monday at 4:45 pm EST, your books will ship Wednesday. But if you wait 20 minutes longer and don't OK your proof until 5:05 pm EST on Monday, the approval will be counted as Tuesday, so your books won't ship until Thursday.
---
Perfect Bound books production schedule:
Proof OK'ed before
cut-off on...
Standard (cut-off is 5pm EST),
Books Ship...
Rush (cut-off is 3pm EST),
Books Ship...
SuperRush (cut-off is noon EST),
Books Ship...
Monday
Wednesday
Tuesday *
Monday *
Tuesday
Thursday
Wednesday *
Tuesday *
Wednesday
Friday
Thursday *
Wednesday *
Thursday
Monday
Friday *
Thursday *
Friday
Tuesday
Monday *
Friday *
Saturday, Sunday
Wednesday
Tuesday *
Monday *
* = Please CALL US for Rush or SuperRush. They are only available on a limited basis. Also, you'll need to give us enough time to get a PDF Proof back to you so that you can approve it by 3pm EST for Rushes, and by noon EST for SuperRushes.
Hard cover and Coil Bound books production schedule:
Hard cover and Coil Binding take a little longer. They have a 5-day PRODUCTION TIME. And you'll still need to add SHIPPING TIME to that. For example, if you OK your hard cover or coil bound books on Monday, we'll ship your books on the following Monday. See the map below for your shipping time. Expedited shipping (Next Day Air, 2nd Day Air) is also available.
Proof OK'ed before
cut-off on...
Standard (cut-off is 5pm EST),
Books Ship...
Rush (cut-off is 3pm EST),
Books Ship...
SuperRush (cut-off is noon EST),
Books Ship...
Monday
Monday
Friday
Thursday
Tuesday
Tuesday
Monday
Friday
Wednesday
Wednesday
Tuesday
Monday
Thursday
Thursday
Wednesday
Tuesday
Friday
Friday
Thursday
Wednesday
Saturday, Sunday
Monday
Friday
Thursday