Custom Covers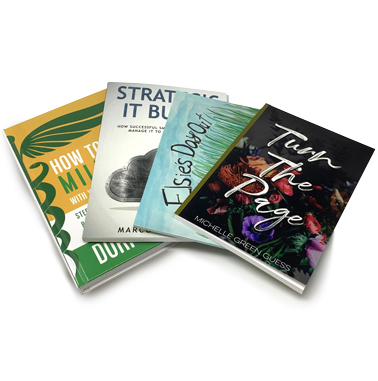 We all appreciate the allure of an intriguing book cover. Eye catching book covers fascinate readers, engaging them before they even start reading. An outstanding book cover can even make a book an art piece.
Elevate Your Cover Design
Custom designed book covers elevate your book's appearance and make a definitive impression. With the right design, your book will stand out from the crowd and attract more readers.
Work with Our Designers
48 Hour Books offers custom cover design from our team of graphic designers. One of our friendly designers will call you to discuss your book's cover and dimensions and get your input before they begin. If you need help finding images, we can do that too. Then, they create a couple rough drafts, get your feedback and work with you to create a cover design you love.
Inside Cover Printing
With perfect bound, saddle stitched or coil bound books, you have the option of inside cover printing. Inside cover printing is just another option to add to the professional, attractive appearance of your book.
Get a Quote
Want a quote on custom book cover design? Our team is ready to help. If you have any specs, you can add them to the email. Don't have any specs? No problem! We will talk it through with you.