Paper Types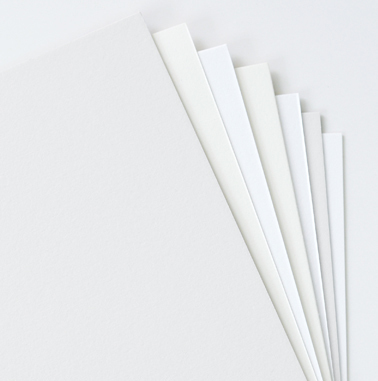 48 Hour Books offers a variety of paper stock so you'll find the perfect fit for your book. We'll help you find the best paper option from our wide selection of recycled, acid-free paper.
Our standard paper is 60 lb. bright white offset, providing great contrast and easier readability than the muddy, pulpy paper you might get elsewhere.
In addition to our standard offset, we offer coated papers and a wide range of paper weights. Each paper type has its merits for different applications.
Sustainability
All of the paper we use is certified by either SFI (Sustainable Forestry Council) or FSC (Forest Stewardship Council). Our digital presses use very little waste paper and any waste is recycled.
Offset Paper
An offset paper works well with nearly any book and any binding method. Offset is the best option for workbooks, since ink won't smudge easily.
Our offset paper offers:
A brightness of 94 (blue-white shade)
Superior runnability and printability
Uniform quality
Excellent strength, bulk and stiffness
Our offset paper comes in three weights.
60 lb. White Offset and 60 lb. Cream Offset
Many printers use 50 lb. offset, which is similar to typical printer paper. Our standard 60 lb. paper is thicker, more durable and has a bright white finish. We also offer 60 lb. offset paper in cream if you'd like your book to have a slightly warmer look.
70 lb. White Offset and 70 lb. Cream Offset
While our standard paper is quite durable, if you're looking for a slightly heavier page (or perhaps you'd like your book to be a bit thicker), 70 lb. offset is a great choice. It's roughly 15% heavier than our standard paper and is available in both bright white and cream.
80 lb. Bright White Offset
For books with large graphics or printed page backgrounds, 80 lb. offset is perfect. At approximately 25% thicker than our standard paper, this stock will help prevent extra ink from showing through to the other side of the page.
Coated Papers
A coated paper provides high image intensity, which is ideal for books with photos and pictures. Our coated paper comes in gloss and silk.
Silk has a low-gloss sheen that highlights images but isn't too harsh for reading text. For books that are heavy on pictures and low on text, a gloss sheet works best.
Cookbooks are often printed with coated stock, since the kitchen environment can result in the need for a paper surface that can be wiped clean.
Our coated paper offers:
Bright, ultra-smooth surface that allows color to pop
Superior color vibrancy
Outstanding print surface quality that provides remarkable image fidelity
80 lb. Gloss Text and 80 lb. Silk Text
Our 80 lb. coated papers are our favorites to recommend for books with photos or artwork. Both the 80 lb. gloss and 80 lb. silk give you beautiful contrast and finish without making your book heavy and cumbersome to flip through.
100 lb. Gloss Text and 100 lb. Silk Text
For a children's book or a photo book with less than 50 pages, a 100 lb. paper is ideal. This type of paper is sturdy and truly luxurious. A specialty coffee table book looks great using 100 lb. stock.