BUY ISBNS & BARCODES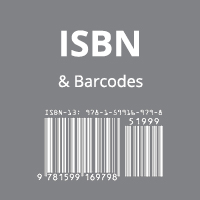 ... in YOUR name, so YOU keep the rights!
Planning on selling your book in stores? You'll need an ISBN.
An ISBN is a unique number that identifies a book. Many books have the same or similar titles, so bookstores and book distributors use an ISBN to be sure they're ordering the correct book. If your book doesn't have an ISBN, bookstores (including online bookstores) won't carry it.
Each version of the book (paperback, hard cover, ePub, MOBI, PDF, audiobook, etc.) has it's own unique ISBN. So you might need 4 or 5 ISBNs just for one of your titles. That's why it's best to order your ISBNs in blocks of 10, 100, or even 1,000. Keep in mind that once these numbers are assigned, they cannot be re-used.
At 48 Hour Books, you can buy ISBN numbers and barcode packages that include:
setting up your account with Books In Print, where all bookstores and book distributors go to find your book
purchasing ISBNs in singles, or in blocks of 10, 100 or 1,000
generating unique barcodes for each of your ISBNs purchased
providing you with detailed instructions for updating your listings at BooksInPrint.com
What does it cost to buy ISBN numbers and barcodes?
| | | |
| --- | --- | --- |
| Quantity | | |
| Single ISBN & Barcode | $125 | $125 each |
| 10-pack of ISBNs & Barcodes | $450 | $45 each |
| 100-pack of ISBNs & Barcodes | $2,000 | $20 each |
| 1,000-pack of ISBNs & Barcodes | $4,000 | $4 each |
If you'd like to purchase ISBNs and Barcodes with your order, simply download our ISBN Application Form (USA), fill it out, and email it back to us. (This is only for the United States and its territories. Canadian customers should get their ISBN through CollectionsCanada).
Be sure to tell us in the "Comments" section of your order form, so we know to put the barcode on your book cover. And don't approve your book cover if it doesn't have your barcode. If you do, we'll print your books without a barcode. If that happens, the best we can do is to print barcode labels that you can affix to each book.
---
Here's more detailed information about ISBNs and Barcodes ...
You may be wondering: What exactly is an ISBN?
An ISBN is an International Standard Book Number. It identifies books and book-related products (like audiobooks) and its purpose is to establish one title from one specific publisher, allowing for more efficient marketing of products booksellers, libraries, universities, wholesalers, and distributors. Using ISBNs allows you to better manage your book's metadata and ensures maximum discoverability of your book. Simply put: an ISBN is like a serial number that identifies the publisher, author, and title of a book (as well as other information). When participating in the ISBN standard, publishers and self-publishers are required to report all information about titles to which they have assigned ISBNs.
This note of caution: There are some disreputable book printers who will purchase the ISBNs in THEIR names. Quite often these services do not register your ISBNs with titles and other Title Data (metadata). Only the official holder of an ISBN can register data to their title, and if this service does not offer this, then you will likely end up with a book that will never be found, with no rights as a publisher to remedy that situation. 48 Hour Books is an authorized channel partners with ISBN.org. We bundle the ISBN and barcode, in your name, into our regular services, giving you a one-stop source, and saving you a little money, too.
An ISBN is not the same as a bar code. The ISBN is the number itself, and the barcode is created from the ISBN. You buy an ISBN first, and then generate a barcode from that ISBN. At 48 Hr Books, we're a 1-stop-shop. Here you can buy ISBN numbers and barcodes individually and in packages, simplifying the process, and saving you a little money, too.