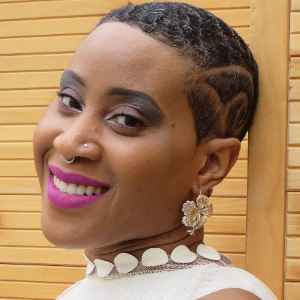 About the Author:
Jacquii Leveine was born and raised in Brooklyn, New York, to immigrant Trinidadian parents. Her professional profile includes seventeen years within the New York City Department of Education as a teacher, staff developer, senior director, and deputy executive director. She also worked as a graduate-level professor of Instructional Technology for Touro College. In 2018, she left the Department of Education to pursue her dream as a writer, jazz songstress, and astro-numerologist. She's now living in Brooklyn where she teaches numerology and cardology, and co-hosts her podcast, The Empress High Council.
What is the title of your book?
Knocking from the Inside: A Memoir Veiled in Numbers
Tell us about your book!
Knocking from the Inside is an in-depth look at my life over a nine-year period, examining a relationship that I had with a character called Siete. The story is a mystery with interesting characters. It explores love and mental illness, why I attracted that energy into my life, the tools I used to make sense of our connection, and how I finally removed myself from it. Readers of Knocking from the Inside will laugh, cry, and reflect on my journey as copilots, seeing themselves through the lens of a woman who's navigating all forms of relationships, energies, demons, mental health issues, accomplishments, and moments of redemption. Ultimately, I hope Knocking from the Inside provides readers with the tools to identify their past traumas, create safe healing spaces within their soul tribes, and realize their own life paths and purposes.
What inspires you to write?
The music and colors of life inspire me to write. I love to observe people, the way we interact, our body language and non-verbal cues, and the experiences we have with each other. Writing allows me to free my soul by telling stories that depict our flaws. Where I sometimes struggle to express myself verbally, my words fly when written, allowing me to dig deeply into the recesses of my heart to pull those vulnerable feelings out. The regeneration that comes from that experience is cathartic; and healing people with words is my goal.
How often do you write?
I write when I have something to say. I'm not the disciplined writer who writes every day, because it stifles my creativity. Anything done repetitively becomes a habit, and I never want to be locked into one way of expressing myself. I like to reinvent my process every time I sit to tell a story. I want the feel, the experience, and my approach to language to be different. Thus, I sit and wait for the inspiration to come from spirit, living life in between. The best art comes from that space of living and being present. Since I'm a practicing numerologist, I follow the cosmic cycles of life. There are specific periods where the mind is sharpest, and that time for me is between the months of August and December. Once the story comes, I let it germinate until that timeframe, and then I write.
How long have you been writing?
I've been writing my entire life, but most of my earlier writings were channeled into curriculum, technical, and grant writing. When I started studying voice again in 2012, I'd write lyrics to jazz instrumentals to connect deeply with the music. It was never my intention to write a memoir. In March 2018, I received a psychic reading from my friend's uncle. I was heavily focused on honing my craft as a jazz singer when he told me, "Your singing career will take off after you've written your book." I looked at him incredulously because that was the farthest thing from my mind. He predicted that the book would be about my life and that it would be beautiful. I can still visualize him clutching his heart as if he felt the words. I began authoring my story in August of 2018. Now that I'm a self-published author, there's no greater accomplishment. I still love and pursue music, but I see myself more as a writer.
What, according to you, is the hardest thing about writing?
Finding the right story to tell is the hardest thing about writing, and that comes with a lot of patience. I sometimes get caught up in the timing of things. I feel pressured to race against an invisible clock where time is running out. I've since learned that time is a false construct, and the story comes when it comes. Everything happens in divine timing.
Have you ever experienced writer's block? If so, how long does it usually last?
I experienced writer's block when I was writing my memoir. I wrote the first half of my book on a mountaintop in Brazil, surrounded by nature. When I returned home in October, I went to Jamaica for a week to recreate that experience, but nothing flowed. It was as if I'd hit a dead end. I was able to squeeze some creativity out, but it was physically taxing on my brain. Whereas, in Brazil, there was a steady flow of creativity every day for the month I was there. The block lasted the entire time I was in Jamaica, so I edited what I'd already written and used the remaining time to relax. I finished my book when I returned to Brooklyn.
Any tips you would like to share to overcome it?
I stop writing. I walk to Prospect Park, sit by the water, watch the ducks swim by, and hug trees, asking them to lend me their wisdom and guidance. I must be out in nature when I'm writing. Then, I get something to eat and walk back home. The practice of walking calms me. Being in nature grounds and revives me. Once I return home, I'm renewed with a sense of purpose and can continue to write. If you're a person who must feel productive throughout the periods of writer's block, read a book that is unrelated to your own. You're still immersed in language, and you'll get ideas from other people's work. I was one who didn't want to read any other book when I began writing, but my host in Brazil insisted on it. It made my writing even better. One last thing to do when experiencing writer's block is to edit the work you've already written. You'll have to do it anyway.
Describe your writing process. Do you have a routine?
I like to go away to write. Being home in Brooklyn is too distracting, so I go to artist residencies somewhere far away and in nature. I read books that are unrelated to my own but evoke the feeling in me that I want my book to arouse in others. I write every day for eight hours, taking one day off to edit and relax. I keep a bound notebook by my bed to capture any epiphanies, ideas, and inspirations that come when I'm sleeping or in the shower. I repeat these spurts of greatness in my mind until I capture them on paper, by hand. I make a note of when that motif should be inserted in the book, because I write sequentially, in the order of events. If I get a great idea for the ending, I write it down by hand and make a note of it, reviewing my notes every day to see what to include and when. I use a dictionary and thesaurus to find interesting ways to express things. I don't outline. My writing just flows.
Do you read much, and if so, who are your favorite authors?
I read all the time. Although, I've been reading a lot of metaphysical books of late. I'm usually in three book clubs at the same time, while reading a book on my own. All great writers are, first, prolific readers. My mantra is: If you don't like to read books, don't write one. My favorite authors are Walter Mosely, Ralph Ellison, Lolita Files, Maya Angelou, Audre Lorde, Clarice Lispector, Tananarive Due, and Ntozake Shange.
What is the most important thing about a book in your opinion?
How you feel during and after reading a book is key. If the book is one that you don't want to put down and long for after you've finished reading it, it's a hit. That feeling used to be more accessible in books written in the past. Nowadays, it's a fleeting chance to find a book that has that level of texture. Books that tell a remarkable story and speak to the crux of the human condition with raw, vulnerable emotion is most important.
Any advice you would like to give to aspiring writers or authors looking to self-publish?
Do it. Do it with abandon—as if your life depends on it. Make sure your book is well-written, edited, and copyedited. Don't sleep on the copyediting, though. I'm still finding errors in my book. From a higher vantage point, however, we all long for our book to be chosen by an agent, which is a grueling, arduous, and, sometimes, humiliating process; but the reality is, most of our books won't be chosen. If your book is written and edited well, it has no bearing on you as a writer. It just might not fit the agenda these large publishing houses are pushing at the time. Self-publishing affords you the luxury of writing what you want, designing the cover how you want, and writing for as long as you want. My book was too long for a first-time writer (the maximum being 100,000 words); but there were things that I was unwilling to compromise. Self-publishing also give you selling leverage. Let's say your book becomes a cult classic, on its own merit, without the push and backing of a large publishing house. You can now sell it as a movie option or to one of the majors on your own terms. There's nothing greater than ownership, and that starts with your intellectual property.
What is the most rewarding part of printing a book?
This isn't a plug. This is a fact. The beautiful printing options 48 Hour Books provides is unparalleled. Feeling the finished, sand-textured product in my hand is proof of its existence, and thus, its magnificence. It is. Therefore, I am—memorialized forever with my own unique stamp.
You can purchase, Knocking from the Inside: A Memoir Veiled in Numbers at https://jazafrodite.com/shop/ today!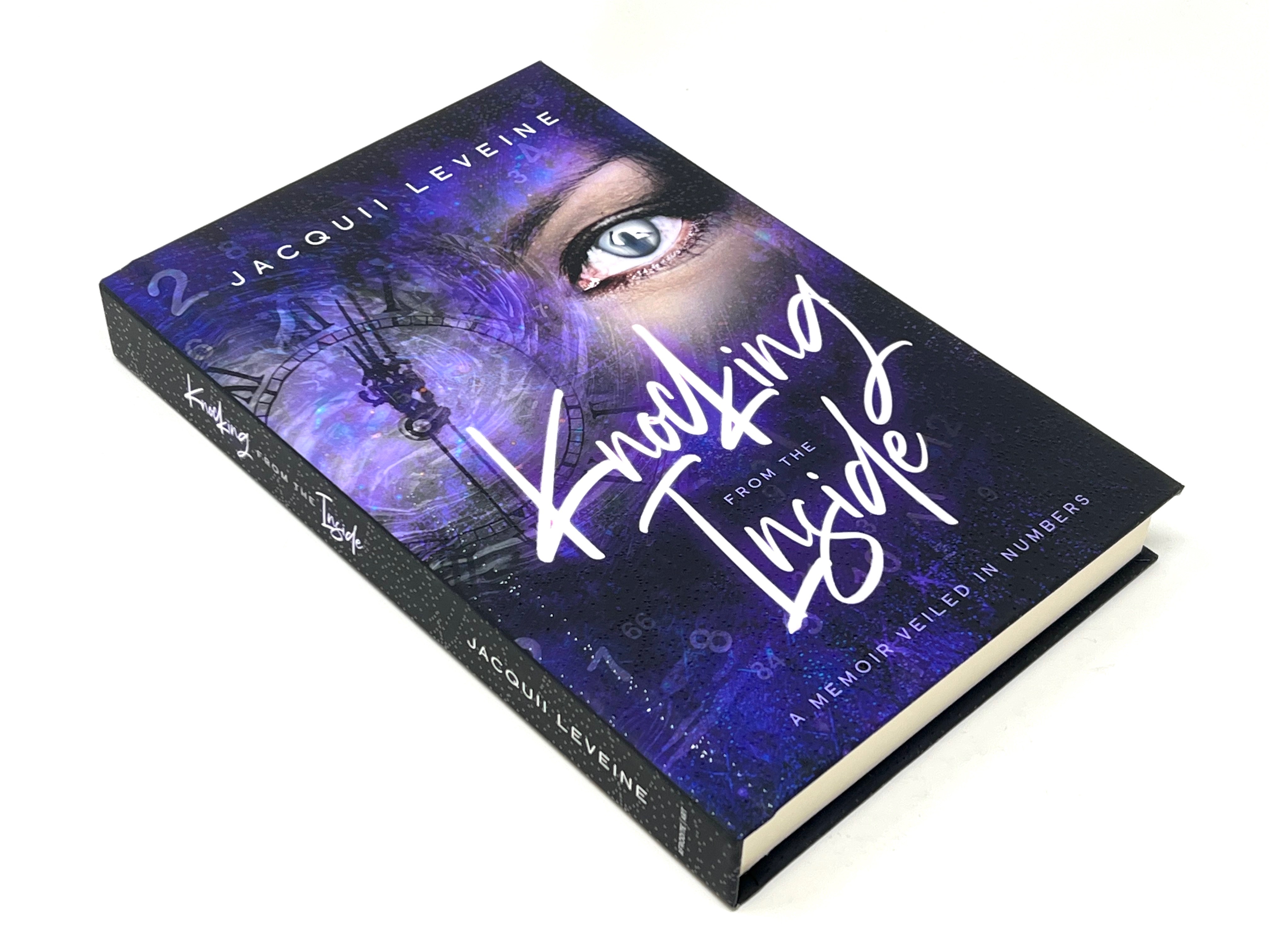 Feeling inspired? Partner with 48 Hour Books and start your self-publishing journey. If you have any questions, don't hesitate to contact us! We are here to help through every step of the way.