Compare Us vs. Them
---
| Speed | 48 Hour Books | The Other Guys |
| --- | --- | --- |
| Turn-around time for PDF Proofs | Usually less than 24 hrs | 3-15 Days |
| Production Time (Print & Bind) | 48 Hours, or less | 5-10 Days |
| Customer Service | 48 Hour Books | The Other Guys |
| --- | --- | --- |
| Customer service by Phone | Yes, immediate response | No |
| Customer service by Online Chat | YES, immediate response | No |
| Customer service by Email | Yes, response in minutes | Yes, response within two days |
| Easy Pricing | Yes | No |
| Easy Ordering | Yes | No |
| Quality | 48 Hour Books | The Other Guys |
| --- | --- | --- |
| Book store quality | Yes | Sometimes |
| PUR Adhesive (the strongest) | Yes | Sometimes |
| Extras | 48 Hour Books | The Other Guys |
| --- | --- | --- |
| 25 Free Books (on orders of 100 or more) | Yes | No |
| Foil Hotstamping & Embossing | Yes | No |
| Hard Cover Books & Dust Jackets | Yes | No |
| Cloth and Leather Covers | Yes | No |
| Reformat like the Best Sellers | Yes | No |
| Create-a-Cover cover design | Yes | No |
---
Here's a more detailed explanation of each
PDF Proofs
Actually, most PDF Proofs are available within a few hours. So, if you send us files in the morning, you'll probably get a PDF Proof for book printing and binding services that afternoon. But every order is different, and some will take longer than others, especially re-formatting jobs. It's always best to send us your files as soon as you can, and we'll get your PDF Proof back to you as quickly as possible.
Production Time
Types of Book Publishing
Standard
Rush
Super Rush
Perfect Bound (paperback)
2 Days*
1 Day*
Same Day*
Coil Bound
5 Days*
4 Days*
3 Days*
Hard Cover
5 Days*
4 Days*
3 Days*
* After Proof Approval
and payment in full.
The chart on the right shows our turn-around times for book printing and binding services. Standard is 2 days for Perfect Bound books, and 5 days for Coil Bound and Hard Cover books. Rush cuts a day off of each, and SuperRush cuts two days off (so Perfect Bound books would ship the Same Day).
Getting Help, by Phone, Chat, or Email
During regular business hours, we're available by phone, online chat, and email. Unlike our competitors, we try to answer emails within a few minutes of when they come in, because nobody wants to wait two days for a response.
There have been many times when we've answered a question, gotten the order, and printed and shipped the full order, all before our competitors have even answered the initial question! Our new customers delight in telling our competitors, "Well, thanks... but I already got my books, and they look beautiful."
It's that responsiveness that has made our Customer Service team a model for all businesses to try to imitate our book printing and binding services.
Easy Pricing
Using our Price Calculator, you'll get a quick price in seconds regarding our book printing and binding services. Then you can add as many options as you'd like, and you're price updates automatically, so you'll know just what you're paying.
Easy Ordering
It's easy to go straight from our Price Calculator right into placing an order. If you have questions about any of our options, we have "More Info" links that explain it all, or you can give us a call, and we'll be happy to help you through it. Or if you'd prefer, we can even place the order for you.
Book Store Quality
From paper to print to binding to final trim, our books are as good as, or better than, books you'll see at your local bookstore.
EVA vs. PUR Adhesive
Most book binders use EVA glue, because it's easy. But with EVA glue, your binding may get brittle and crack in extreme cold temperatures, or it may melt in extreme heat. Either way, the pages will start falling out. We use PUR glue, which is significantly stronger than EVA. It lasts longer, looks better, and can withstand extreme heat and cold.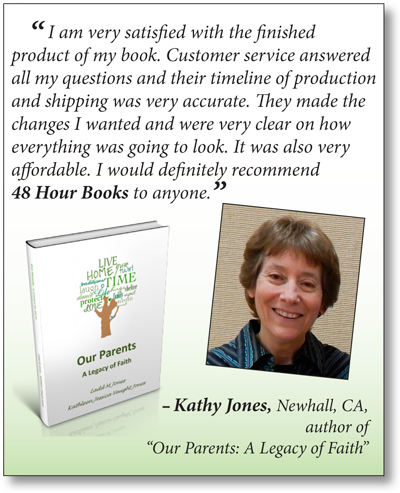 25 Free Books
Simply order 100 or more books, and we'll give you an extra 25 books, free!
Foil Stamping and Embossing
We can foil stamp your covers to help your book really stand out from the crowd. Embossing is available, too.
Hardcover Books and Dust Jackets
Offer your readers a premium version of your book, suitable for display as a 'coffee table' book. We can print your full order as hardcover books, or do some perfect bound and some hard cover ... it's up to you.
Cloth and Leather Covers
Another premium selection that can give your books a rich, elegant look.
Reformatting Like the Best Sellers
Choose from a variety of best-sellers, and we'll format your book to match their formatting. Why re-invent the wheel? If it worked for these best-selling authors, it can work for you, too.
Create-a-Cover
A simple way to get a great looking, high-quality cover at a fraction of the cost of a custom cover designer.