Thanks to Hollywood movies like Iron Man, Black Panther, and the Avengers series, comic books once again hold an important place within popular culture. But while major franchises are thriving thanks to film adaptations, there is still a large, independent comic book scene. Creating your own comic book and getting it printed can be a lot easier than you think. Below are seven steps to self-publishing a comic book or graphic novel.
Do a Little Research:
One of the best ways to begin the process of self-publishing a comic book is to look at as many comic books out there as you can. See what you like and don't like about certain comics and let that inform what you want yours to look like. Ask yourself questions such as: What type of cover do I like? What type of paper feels right? What genre of comic book do I want mine to be in?
Answering questions like these will be useful when making decisions later. You will discover what type of format you prefer, whether you'll need color or only black and white graphics, what type of illustrator you may want to hire, how large you would like the book to be, and so on.
Find an Illustrator:
Illustrations can make or break a comic book based on how well they bring the story to life. If you're an artist, then you are one of the lucky ones. If you are not able to illustrate the comic book yourself, you'll have to decide on someone you could employ and collaborate with during this part of the process.
One source for finding an illustrator is through online freelance marketplaces like Fiverr, Upwork, or Freelancer. You could also reach out to local colleges with art departments, graphic design, and/or illustration programs to see if there are any students interested in freelance opportunities.
Format the Book:
Once you have the content, story, and illustrations for your comic book ready, you will then need to put all of it together in a formatted book. Your illustrator may be able to do this for you, but if not, 48 Hour Books can help. If you need help with formatting, consider our Reformatting Services or download our Formatting Tools and Tips.
One important step to consider before formatting your comic book is to ensure your content has been edited and proofread. When self-publishing a comic book, it's important to hire a professional editor that may catch things you've overlooked. If possible, it's best to find an editor/proofreader with experience working on comics.
Decide on Materials:
Once your files are ready and the research is done, it's time to decide on the materials for your comic book or graphic novel.
Paper Types:
Comic books can utilize a range of different paper types based on the feel and look the author wishes to achieve. Offset paper options such as 60#, 70#, and 80# Bright White provide a rawer, natural feel, common to standard comics. Bright White paper types, as opposed to Cream, are preferred for a crisper image with better contrast. For those wishing to capture the essence of graphic novels or photography and art books, then coated paper types like our 80# Silk (satin) Text or 100# Gloss Text are excellent options.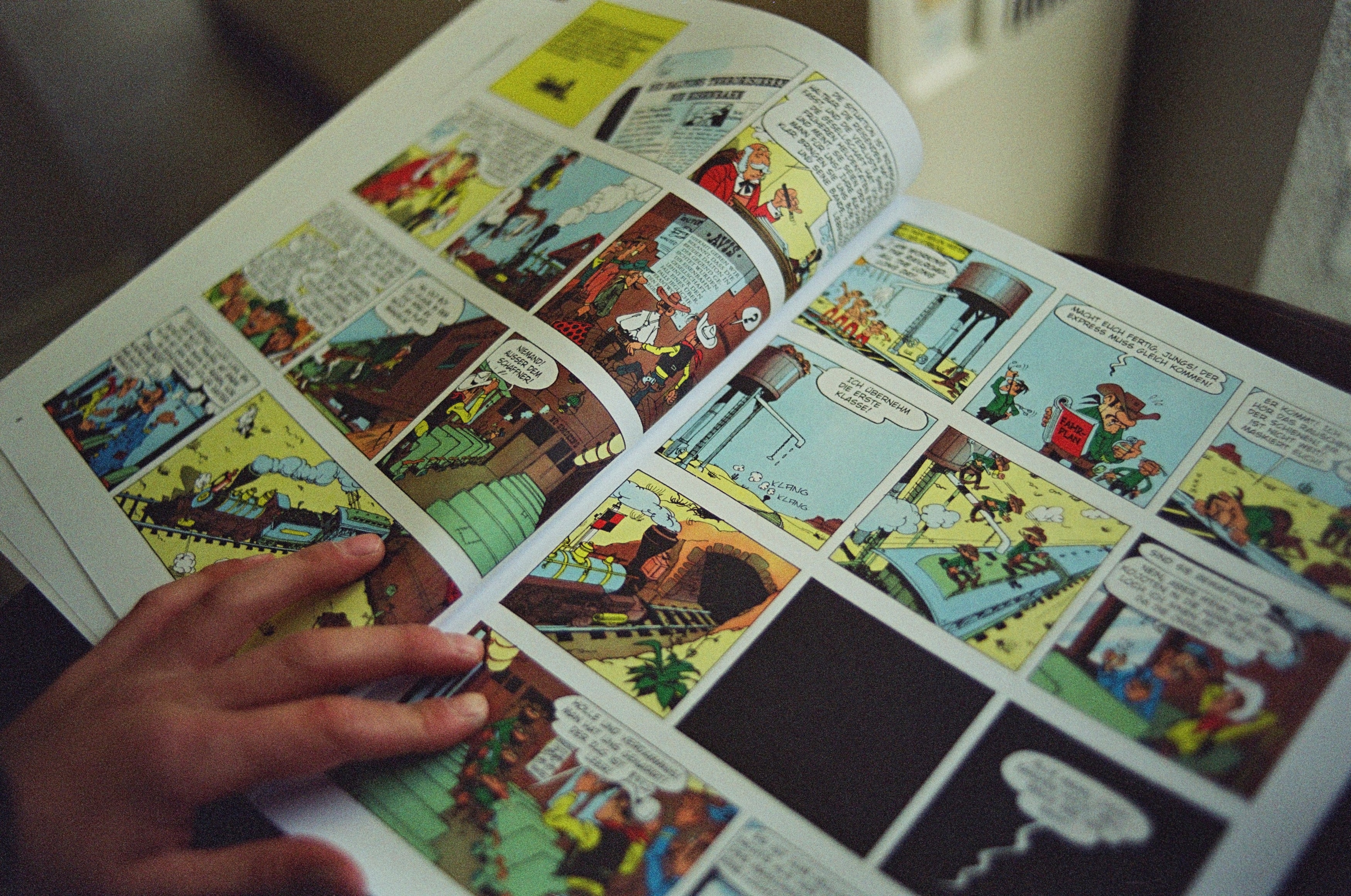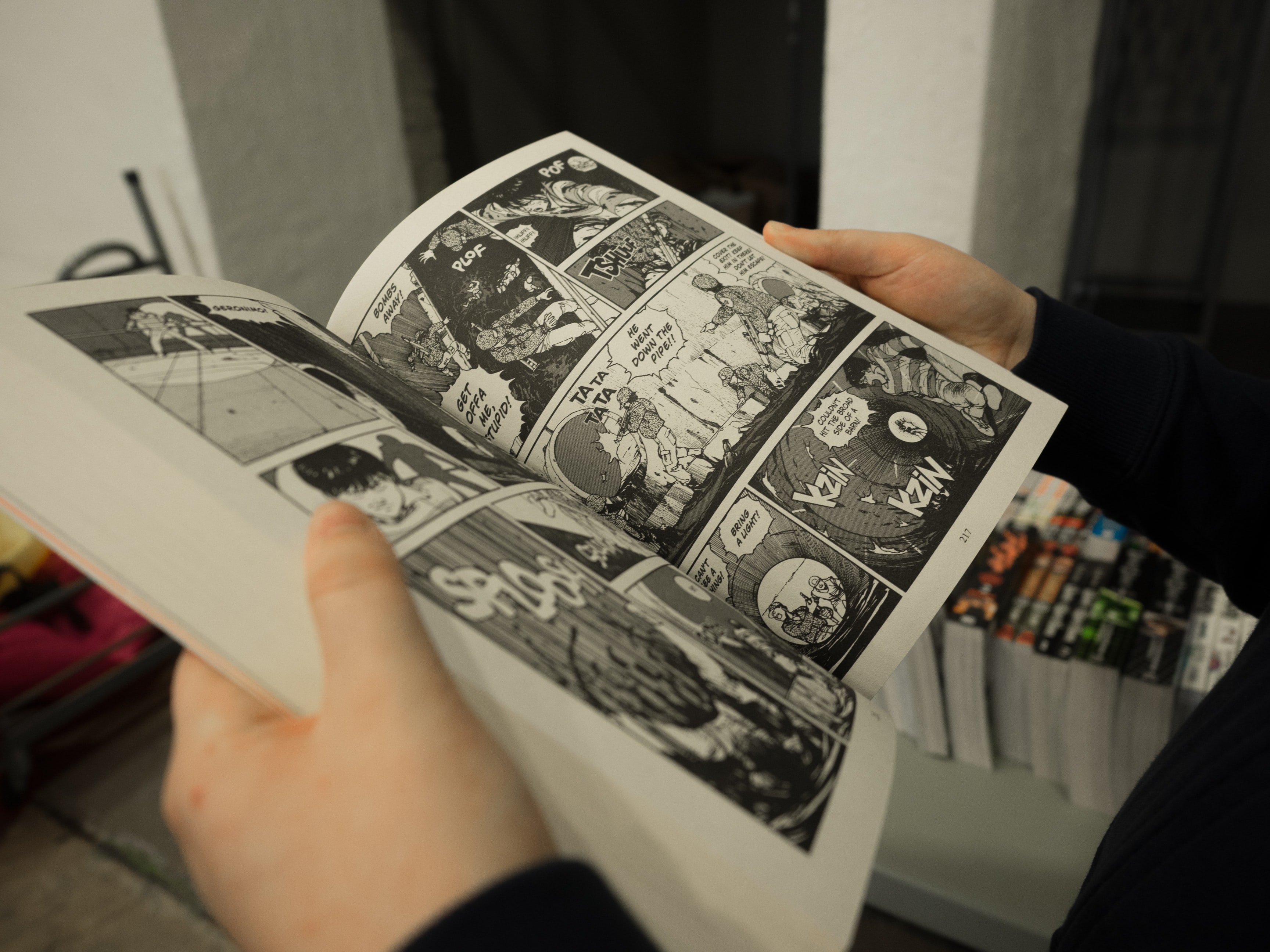 Book Sizes:
Comic Books can come in a variety of different sizes based on the author's preference. The standard size usually found online is 6 5/8 inches by 10 ¼ inches. There can be slight variation regarding the usual comic book size because there is no set standard. If you feel this size does not suit your narrative and design, then try measuring books you'd like to emulate for their dimensions. Then, you can adjust your book's dimensions accordingly.
Cover Design:
Like most genres, comic books must be able to catch a potential readers' attention. Using shiny Hi-Gloss Laminate covers add to the appeal and durability of any cover. To really make your cover stand out and wow readers, consider adding services such as Diamond 3D Foil, Clear, or Smart Textures.
If you need help designing your cover, consider using our custom cover design services.
ISBN and Copyright:
To sell your book in physical or online bookstores, you will need to purchase an ISBN & Barcode. Your ISBN (International Standard Book Number) is a 13-digit number that identifies the book. This number establishes the publisher, author, title, and format of the comic book.
When you place an order with 48 Hour Books, simply check the box for the number of ISBNs you wish to purchase. We will send you an application to fill out then submit your application to Bowker. Once Bowker issues the ISBN, we will create the barcode and place it on your back cover.
Protect Your Book with a Copyright:
Getting a copyright for your book protects you against others taking your work, passing it off as their own and financially benefiting from it. You can read more about the Copyright process and how to get it started by visiting our blog or by visiting copyright.gov.
Create Some Buzz:
You will also want to make a game plan for promoting your book. Setting up your own website where you can promote your book, as well as yourself, is a great start. Utilize social media platforms like Facebook, Instagram, and Twitter to tease your upcoming release. These are just a few of the most common methods, but there are scores of marketing resources available to self-publishers.
Make a Plan to Sell Your Books:
The final step you will want to consider is how you plan to sell and self-publish your comic book. There are a lot of advantages to contacting large online retailers like Amazon or bookstore chains such as Barnes & Noble in terms of scope and reach. But, don't forget to gauge the interest of your local independent bookseller in featuring a local writer, too.
If you do create your own website, the best way to sell to customers is by setting up your online store. Doing so helps bypass any retailer that may want to take a percentage from sales. By selling the book on your own, you can keep all of the profits.
Ready to start printing? Get a quote for your comic book today!