Like any industry, there's product variation depending on which business you decide to go with, and book printing is no different. Different book printing companies may use alternative materials and options compared to others.
In fact, you may be wondering, "What are hardcover books made of?" In this blog post, we will be breaking down how we make our case bound (hardcover) books.
At 48 Hour Books, we print hardcover books in 5 business days and paperback books in 2 business days, making us one of the fastest book printers in the world, without sacrificing quality. A hardcover book has timeless, classic appeal. Printing a hardcover book ensures your work will last years and is a durable alternative to a paperback book.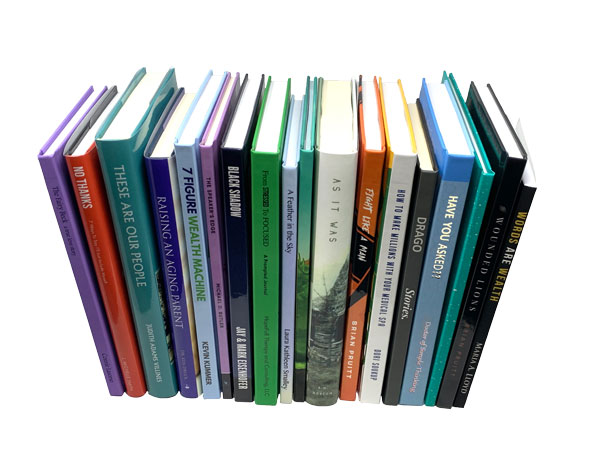 So, what are hardcover books made of?
If you are choosing our standard hardcover option, first we print your full-color cover on 100 pt. Gloss Text, then laminate it with either Silk Laminate or Hi-Gloss Laminate.
The paper is a bright shade and ultra-smooth surface, and is:
· FSC (Forest Stewardship Council) certified
· SFI (Sustainable Forestry Initiative) certified
After the cover is laminated, it is glued to and wrapped around a heavy board.
The heavy board is 0.088 pt warp-resistant heavy board. It's free of blemishes, smooth, and even in color. It's produced using the cleanest wastepaper and fiber available, is recyclable, and manufactured in the USA.
We use white or cream end sheets that are glued to the inside front and inside back cover boards (to hide the board and to hold the book together). Cloth headbands are used on the spine for any book larger than 1/2" wide.
Hardcover books can also be paired with a dust jacket. Two 3.5" flaps wrap around the cover, holding the jacket in place, providing extra room for text and photos – the perfect space for an author bio or story synopsis. Our dust jackets are printed beautifully on heavyweight, 100# Gloss Text paper and laminated in either a glossy or matte finish.
Special Options
When you choose case binding, you can also choose from special cover options, such as:
· Advantage Leatherette
· Pearl Linen Cloth
· Taratan II Leather
*These special cover options are often paired with a dust jacket, hot foil-stamping, or Diamond 3D Printing. These special cover treatments must be used to display your title and artwork if you plan to print a cloth or leather hardcover book.
Print Your Hardcover Book Today
At 48 Hour Books, our case binding operations include meticulous attention to detail. A hardcover book takes some manual process, and our bindery experts ensure quality. From adding cloth head and tail bands to hand wiping each cover for a flawless finish, our system covers every step, giving you the best possible product.
Contact us today to learn more about hardcover book printing!