When considering the print options for your self-published book, for the first printing, you may decide on traditional options like a paperback or hardcover book with a gloss or silk (matte cover). In the publishing industry, it's more on trend to start with a hardcover release, followed by a paperback release once your book has been out for its first cycle.
Another publishing trend is to start with a paperback release, then down the line, you may decide to release a special edition with upgraded print options. These special editions are typically printed as hardcover books with special cover treatments like foil stamping or our Diamond 3D printing.
But if you really want to take your self-published book to the next level, consider printing your book with a leather book cover.
Leather Book Covers at 48 Hour Books
At 48 Hour Books, we offer two types of leather book covers: Advantage Leather-Like Cover and Taratan II Leather
Advantage Leather-Like Cover:
A 9Pt Advantage embossed acrylic cover, or leatherette. Advantage leather covers can be used for all four binding types we offer.
· The Advantage leatherette feels like real leather in your hands and is an economical option if you're interested in a leather look, but the real thing may be outside of your budget.
· Choose from five, rich dark colors: black, cranberry, hunter green, maroon, and navy.
· Our Advantage leather covers are strong, durable, and moisture resistant.
· While Advantage leather covers cannot be printed on, but you can add text and design elements if you select our Diamond 3D Printing, which will be applied directly to the cover. You can also choose to keep your leatherette cover blank and add a printed dust jacket.
Taratan II Leather:
A bonded leather, which uses 100% genuine cowhide fibers for the feel and smell of real leather. Taratan leather covers can only be used for case bound (hardcover) books.
· The Taratan leather is a bonded leather with a premium look and feel, offering a luxurious style to your book cover.
· Choose from five colors with a soft, rich finish: black, burgundy, forest green, brown, and navy.
· Taratan leather covers cannot be printed on, but they can be customized with metallic foil stamping. We can add the title, author name, or simple design with the foil treatment. Adding a dust jacket is also an option for that bestseller look.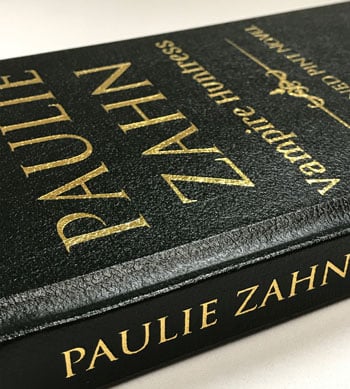 Taratan II Leather book cover in forest green with gold foil stamping
Depending on your book's subject matter or if you're looking to print a special edition book, a leather book cover may be the perfect option for you. Or, maybe you just like the look and feel of leather. It's your book, so pick the print options that feel right for you! For a professional, heirloom-quality book, leather covers stand the test of time and offer a level of sophistication.
Printing with 48 Hour Books – We're Here to Help
You can get instant pricing at any time using our price calculator. If you want to see our print options up close, we recommend ordering our free Ultimate Guide sample book. Not only do you get to see our paper and cover options in person, but we've also received great feedback about the advice and information you find inside.
Once you're ready to partner with 48 Hour Books, we're here to help! Contact us today and take the first step on your self-publishing journey.