We're answering all of your questions about shipping with 48 Hour Books. Whether you need your books shipped to multiple locations, a fulfillment center, or Alaska and Hawaii, we've got you covered!
What are your book shipping times?
In addition to "Rush" and "Super Rush" production times, we can also expedite your book shipping. Check out the UPS shipping map below to see how long UPS Ground will take to get to you. If you need your books faster, you may want to select Next Day Air, 2nd Day Air, or 3-Day Select as your shipping method. We know the cost of expedited shipping can get expensive, so updating your production time (Rush or Super Rush) may be cheaper for you than to upgrade shipping. We can help make sure that your books get delivered on time - Just give us a call! Our customer service will help you determine when you need to place your order and approve your proofs to meet your deadline.
We have two locations: Our main facility in Twinsburg, Ohio and an additional production facility in Las Vegas, Nevada. Here is a comprehensive map of our updated shipping times. Our two locations are in red and the numbers represent the number of days it takes to ship to each state from each location: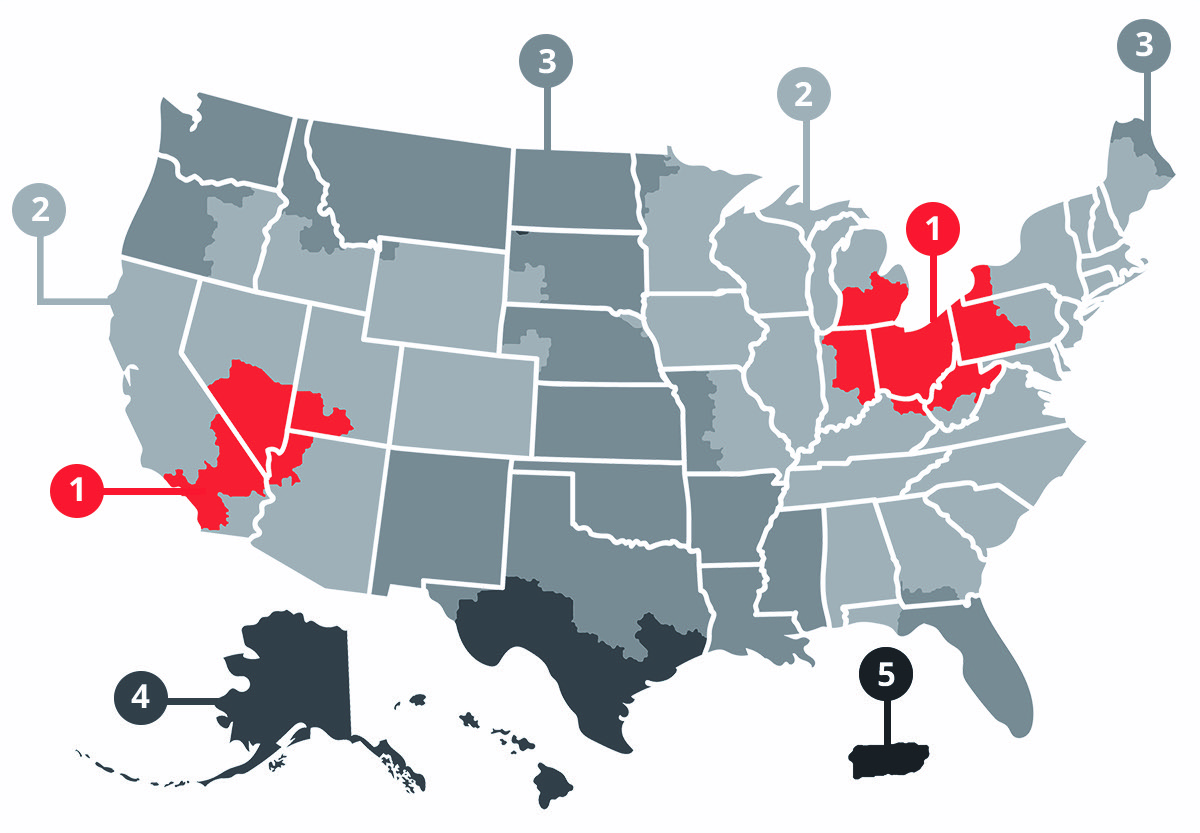 With two locations, we are now within 2 days UPS Ground of roughly 80% of the US population! Learn more about our west coast facility and what it means for you!
Do you offer split shipping?
Yes, we can split ship your order. For instance, suppose you order 200 books, but want 50 to go to New York and the rest to go to California. No problem! On your online order form, you can enter multiple addresses and select the number of books going to each location. Since you'll have multiple "ship to" addresses, your shipping cost may be a little higher, so keep this in mind!
Do you ship books outside the US?
We only ship to the US and Canada. We like to follow through on all orders, and a shipment to other countries can be difficult to track, expensive to ship, and hard to guarantee by a certain date. However, if you need your books shipped to a different country, we recommend that you coordinate a pickup of your books at our offices with your preferred carrier (UPS, FedEx, DHL, Post Office, etc.). We'll print, bind, package, and have your books ready for pickup!
How do you ship to Hawaii and Alaska?
For Hawaii and Alaska, we use USPS Priority Mail. Since UPS costs are high to ship to these states, using USPS priority will greatly reduce your costs. If you are shipping to Alaska or Hawaii, customer service will adjust the order to USPS Priority when the order comes in. Simply mention you would like your shipping adjusted to USPS Priority mail in the "customer comments" section on your order form and customer service will take care of this when your order comes in. As always, feel free to call us after you place your order to follow up on this or create an "order note" in your account.
Shipping to Canada:
Need to ship to Canada? No problem! Placing your order is the same - there are no special instructions. However, when shipping to Canada, there are two things to keep in mind:
Our shipping charges cover the shipping cost, but not the duties and taxes. Any shipments to Canada require duties and taxes to be paid by the receiver at the time of delivery. The exact amount due will be determined by Revenue Canada.
If your package is held up in Customs, it could be delayed. Unfortunately, neither 48 Hour Books nor UPS can speed things up if your package is being held in Customs.
What happens if my book shipment is late?
We ship your books using UPS. While we love UPS and almost never run into shipping issues, delays in shipping can occur (especially during high-volume shipping times, such as December). We encourage you to always allow an extra two days before your need-by date to ensure your books are delivered on time during high-volume shipping times, if possible. Unfortunately, there's not a lot we can do once the package leaves our building, so when a delay does occur, we recommend that you contact UPS directly. Your tracking number should be listed in your exception notice but is also conveniently listed on your order details page on your account. UPS likely won't be able to speed up the package if it's delayed, but they can help you update the delivery to a different address if needed, or have the package held at a UPS hub so you can pick it up. You can use UPS's "My Choice" feature to help streamline all your incoming shipments. Membership is free, and you'll receive delivery alerts and be able to authorize delivery without a signature, Hold for Will Call, Reschedule, or Change delivery. Get complete information at UPS My Choice or you can call UPS at 800-PICK-UPS (800-742-5877). Be sure to have your tracking number handy!
What if Amazon is selling my books?
If you plan to sell your books through Amazon, then Amazon will provide shipping labels that you will send to us. Your books will then be sent to your designated Amazon fulfillment center. Since we are not affiliated with Amazon, any questions you may have about shipping to the fulfillment center and acquiring shipping labels should be handled directly with Amazon.
Prepare ahead of time:
Before you place an order with 48 Hour Books, we've made it easy to determine your pricing and timing ahead of time. Get an instant quote using our price calculator, where you can also determine your shipping costs by entering your zip code or postal code. View our schedules for pre-press/production and shipping to determine your full timing for your order. If you need help with any of these calculations, give us a call or email us and we will help you!
More Book Shipping Info:
Box size: 18 x 12 x 9 high
Materials used: Brown cardboard boxes, plastic shrink-wrapping in groups of ~5 books (depends on your book size and thickness), brown paper packaging for extra security, 48 Hr Books packaging tape. (If you do not want the 48 Hr Books tape displayed on your boxes, simply request "blind shipping." and we will use regular packaging tape without our logo.)
Individual shrink wrap: We can shrink wrap each book individually for an extra $1/book
Freight shipping: Any book order that weighs more than 500 pounds will now automatically be shipped via freight shipping, which takes longer than our standard UPS shipping, but will ensure that your books are handled with even more care to accommodate the excess weight to make sure your books will not be damaged in transit.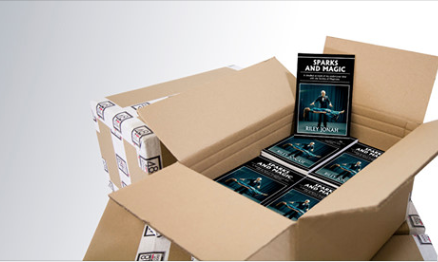 Once you're ready to get your book printed, partner with 48 Hour Books!
Have questions about getting your books on time? Contact us today!