At 48 Hour Books, we understand that not everyone is a designer, which is why we offer custom cover design services. You can select from two design customization levels to suit your budget and your needs: Our economy Create-a-Cover or our fully customized Cover Design service. If you wish for us to provide a complete custom cover, we will connect you with a designer to go over pricing and design plans.
We also offer free cover templates that open in InDesign. If you're familiar with using this software, these templates are great for making sure your measurements are all set to go. Simply choose your desired book size, download the template, and start designing!
But our most popular cover design option is our economy Create-a-Cover service. For just $100, you can choose from a list of buildable cover options and one of our expert designers will design your book cover for you! We're going to break down exactly how the Create-a-Cover process works so you can plan ahead when you go to place your order with 48 Hour Books. In just five easy steps:
STEP 1: Choose a front cover template from one of our custom-designed options
When placing your order (or just getting a quote for a custom printed book cover), if you select our "Create-a-Cover" option, you'll have your choice from a selection of cover design templates. If the cover sample you select has a photo, you should provide us with YOUR photo to put on your cover. To create a book cover, simply click the design that you like, and go to Step 2 to choose your colors.
STEP 2: Choose a back cover template
Next, you will choose a template for your back cover. We will instantly suggest the back cover template that pairs with your front cover. If you would like to choose a different back cover layout that differs from your front cover design, this is up to you. Make sure you give detailed instructions in the "customer comments" section of your online order form if you want to give us more details on how you want your front and back cover to look.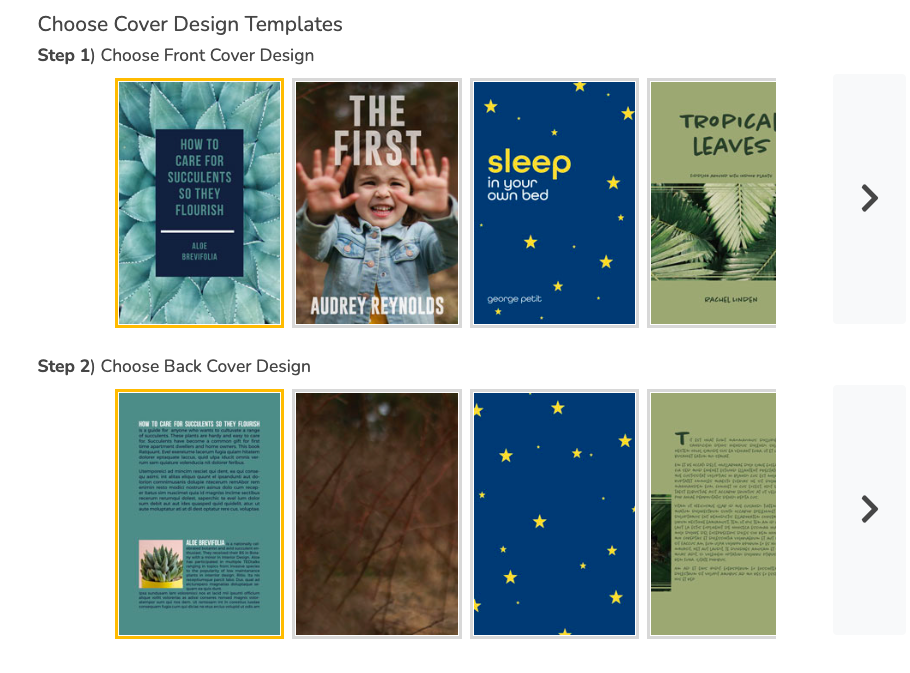 STEP 3: Select two colors you'd like to use on your cover
A thumbnail of the design that you chose in Step 1 will appear on the left, with a 'color picker' on the right. Choose two colors from our color picker. Slide the rainbow slider up or down to get to the approximate color, then choose a color from within the large gradient. Do the same for your 2nd color. Swatches of complimentary color examples will show under your selected colors if you need suggestions. Our designers will also use their judgment in designing your cover with that color combination.
But don't stress too much about your color choices when creating a book cover. After you see your PDF Proof, you can make one set of changes for free before deciding on a final design. Use your time proofing to provide any suggestions for design alterations.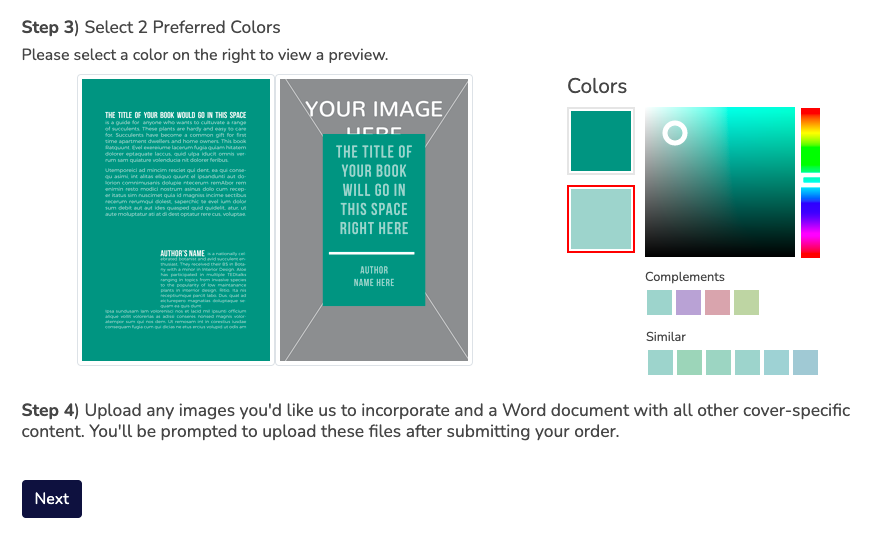 STEP 4: Send us the specific wording you'd like to add to your book cover, as well as any images or graphics you'd like to include
After your order is placed, you'll be able to upload the wording you'd like in a Word document for the front cover and back cover blurb, along with any photos or clipart that you want included on your custom printed book cover.
STEP 5: Sit back and relax while our graphic design team creates your book cover!
We'll always send you a PDF proof to review before we begin printing, and you can send us any revisions to the design at that time. We'll put it all together for you and send you a PDF proof to look at. Minor corrections to the proof are free, and you'll get a great-looking, inexpensive book cover.
Here are some examples of book covers designed using our Create-a-Cover service: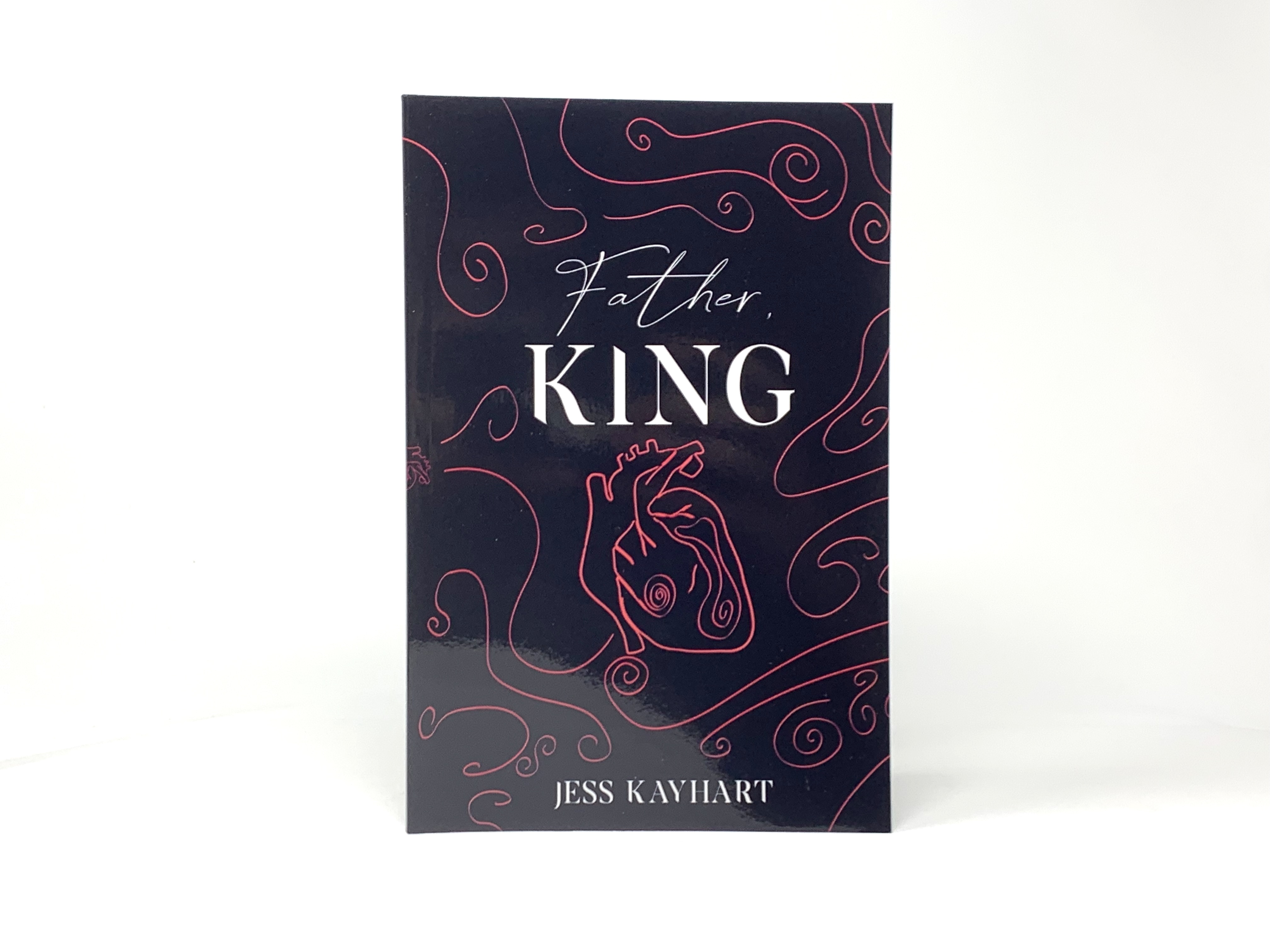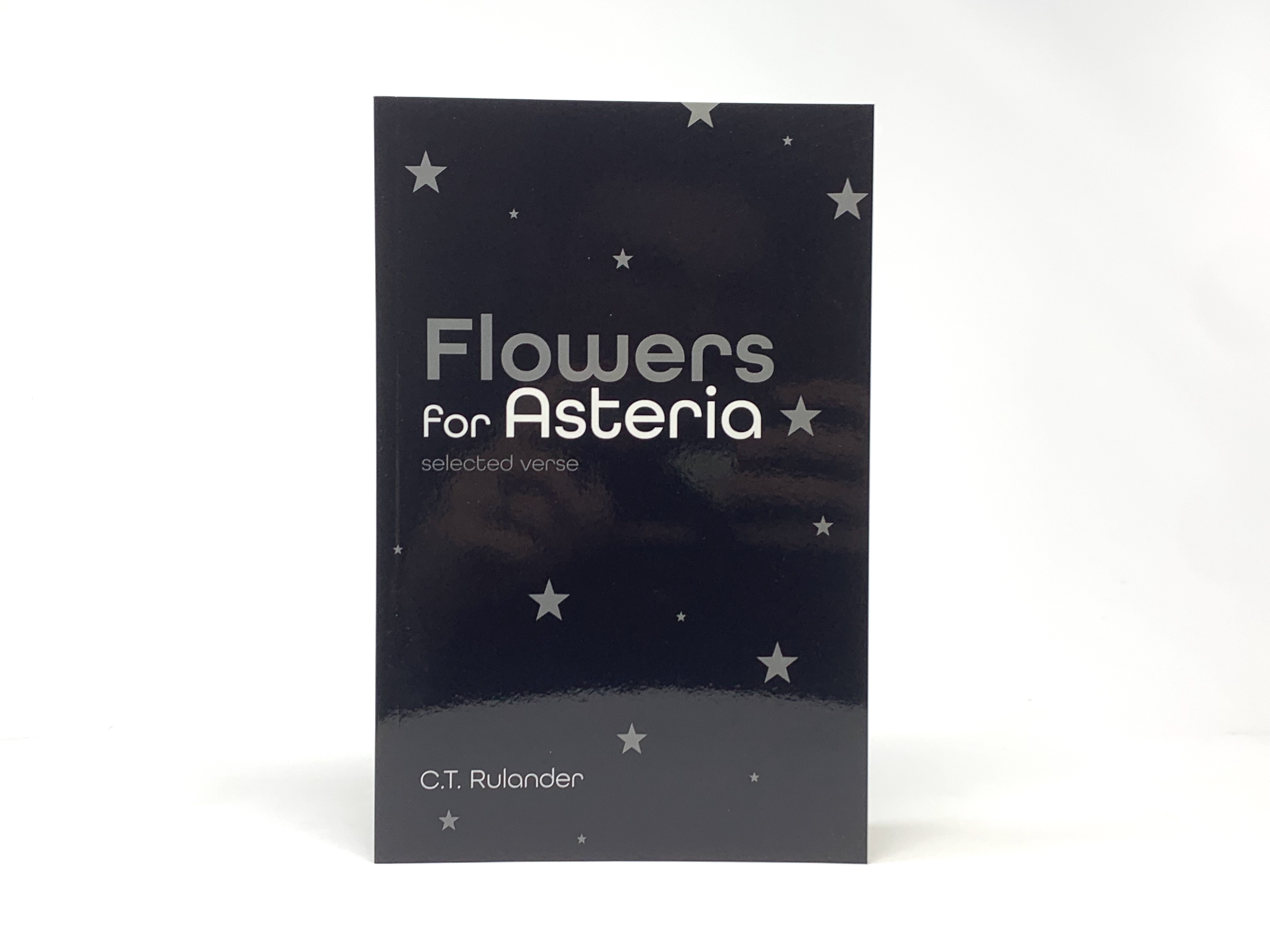 If you have more complex requirements, our 'Custom' Cover Design service is a little more elaborate. One of our graphic designers will give you a call to discuss your book cover. We'll get your input, then create a couple of rough drafts of book covers. Simply let us know what you like or dislike about each of the rough drafts, then we'll make whatever changes you need and create a book cover design that you'll be happy with.
When you're ready, we're here to provide you a seamless book printing experience. Contact us with any questions you may have before you place your order. Our team is ready to help in any way you need!