With the holiday season ramping up, there's no better time to talk about preserving your family recipes by turning them into a cookbook! Creating a family cookbook is a wonderful way to celebrate and pass down the culinary traditions and memories that have been cherished for generations – and it makes for a hit holiday gift!
Here's a step-by-step guide on how to create a family cookbook:
Gather and Organize Recipes:
Start by collecting all the treasured family recipes. These might include handwritten notes, old cookbooks, or even recipes passed down orally. Organize them into categories like appetizers, main courses, desserts, and so on.
Document Ingredients and Instructions:
Carefully transcribe each recipe, making sure to include all ingredients, measurements, and detailed cooking instructions. Be as precise as possible to ensure that the dishes can be successfully recreated.
Add Family Stories and Memories:
Family recipes often come with stories and memories. Add anecdotes, notes, and photos that relate to each recipe. These personal touches make the cookbook more meaningful and engaging.
Standardize Measurements:
Standardize measurements and cooking terminology to ensure consistency throughout the cookbook. Convert any old or non-standard measurements to modern equivalents.
Test the Recipes:
If you're unsure about the accuracy of any recipe, consider testing it in your own kitchen to make necessary adjustments and confirm that it turns out as expected.
Organize and Design:
Arrange the recipes in a logical order and design the cookbook. You can use software like Adobe InDesign or hire a professional designer if you want a polished look. Ensure that the layout is user-friendly and visually appealing.
48 Hour Books offers free book templates and reformatting services if you need help formatting your cookbook!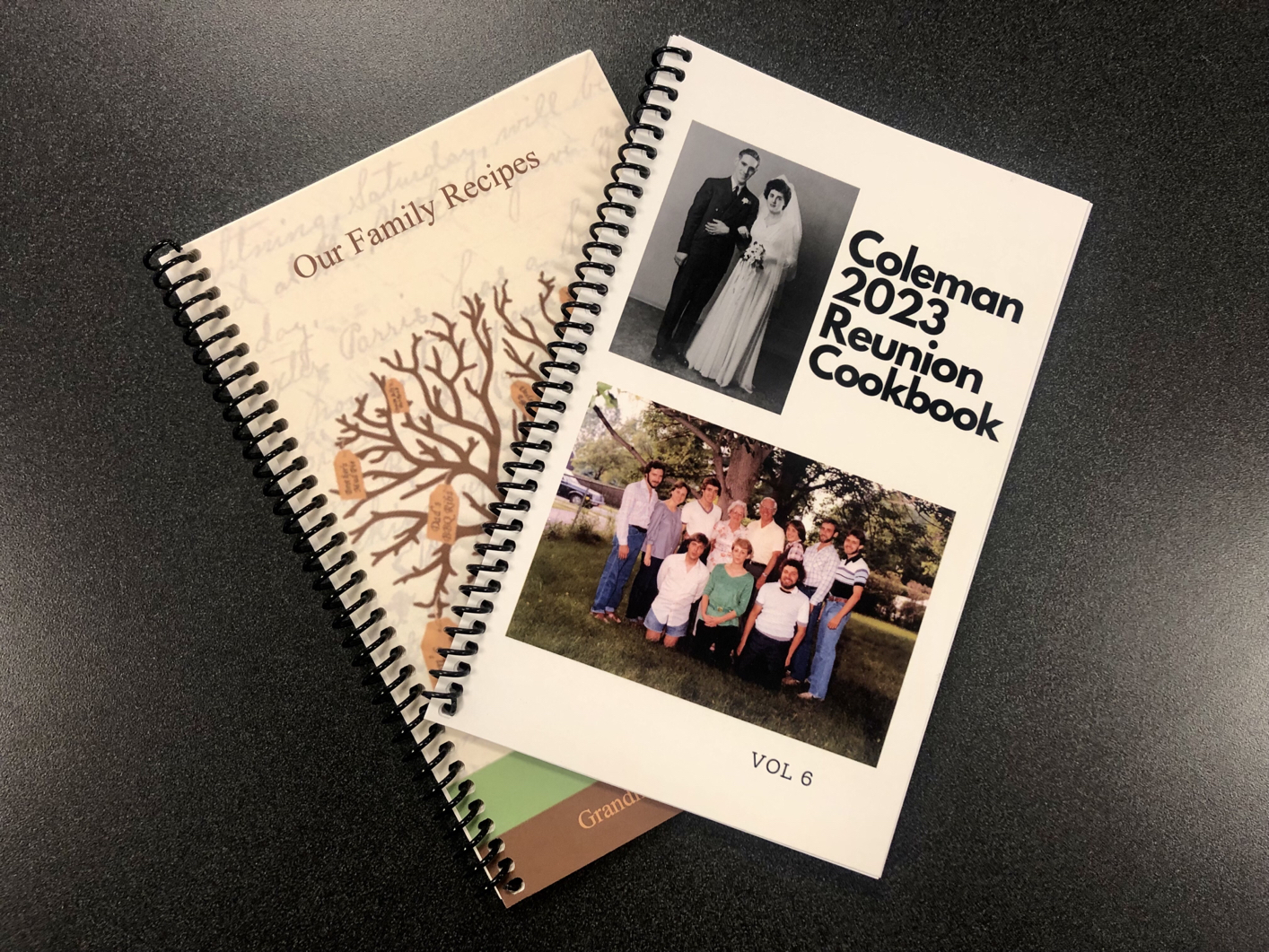 Include Photos:
If you have access to high-quality photos of the finished dishes, include images for some or all of the recipes. Ensure that the photos are well-lit and showcase the dishes beautifully. If you don't have access to photos – don't worry! This is your cookbook and what's most important are the recipes. You can always update your cookbook and add photos later.
Proofread and Edit:
Carefully proofread the entire cookbook to catch any typos, errors, or inconsistencies. Consider having a trusted friend or family member review it as well. Editing a cookbook is just as important as editing a novel because one wrong measurement makes for an unsuccessful dish.
Select Materials & Print:
48 Hour Books has the print options you need to print a successful cookbook. First, you must consider your binding type. Paperback books print in just 2 business days, so if you're in a time crunch, this is always a good option.
However, for optimal use, we recommend spiral-coil binding for cookbooks. This will guarantee your cookbook will lay flat, which is easiest for reading recipes and cooking at the same time. If you want to get real fancy, add tabs to your cookbook for easy navigation.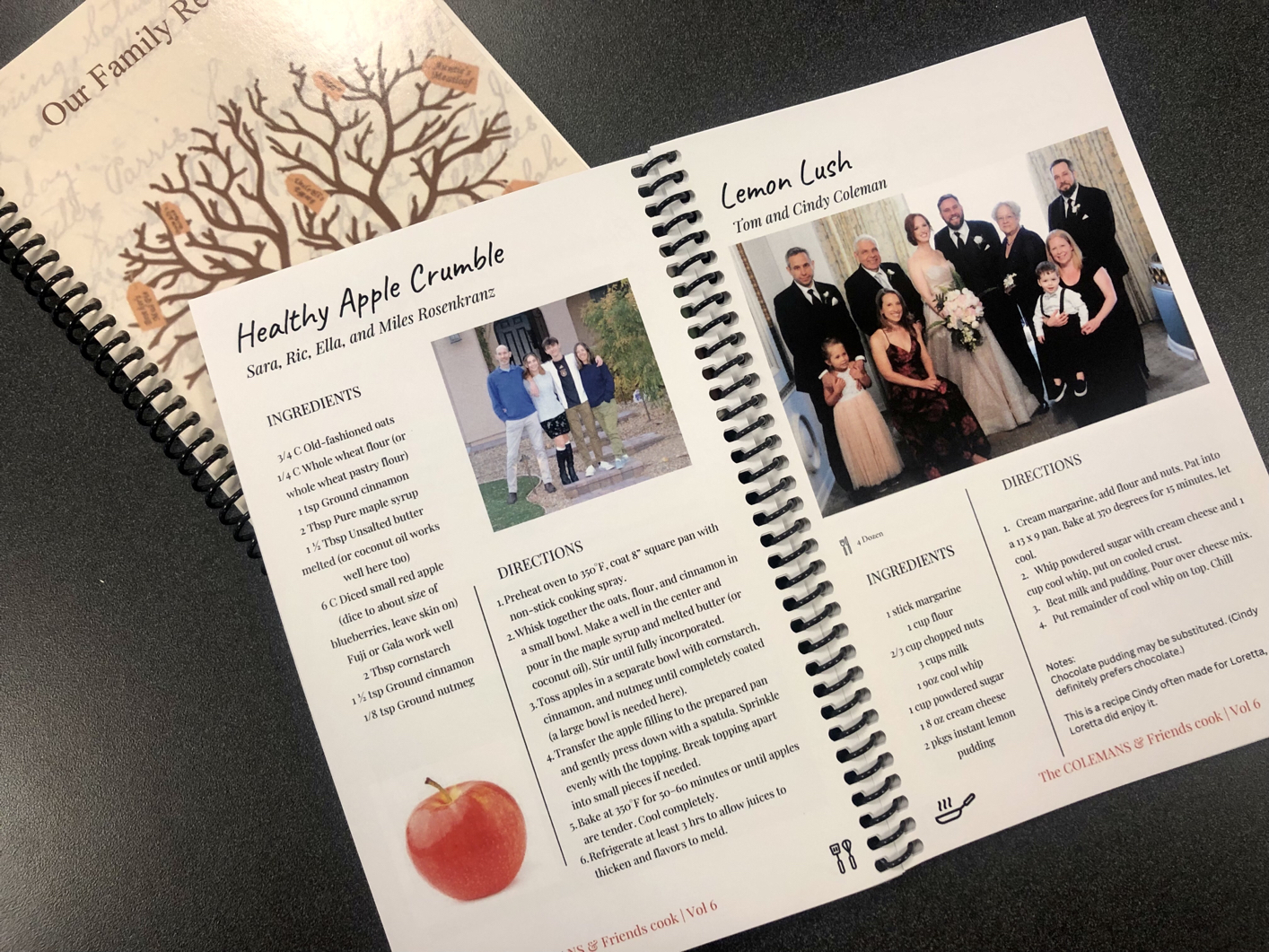 Store Digital Copies:
Keep digital copies of the cookbook in multiple safe locations to ensure that your family's culinary heritage is preserved for generations to come. If you ever need to make edits or add recipes, it's important to store the original file so you can make changes. Encourage family members to continue adding their own recipes to the cookbook, ensuring that it remains a living document that evolves over time.
Preserving family recipes and creating a family cookbook is a meaningful way to honor your family's culinary heritage and create a lasting legacy of cherished dishes and memories. It's a project that can be enjoyed by generations to come! Transcribing recipes can take some time, so we hope you found these instructions helpful. 48 Hour Books is here to help speed up the process with free book templates, easy ordering, and fast printing and shipping.
Have more questions about cookbook printing? Give us a call! We're here to help every step of the way.